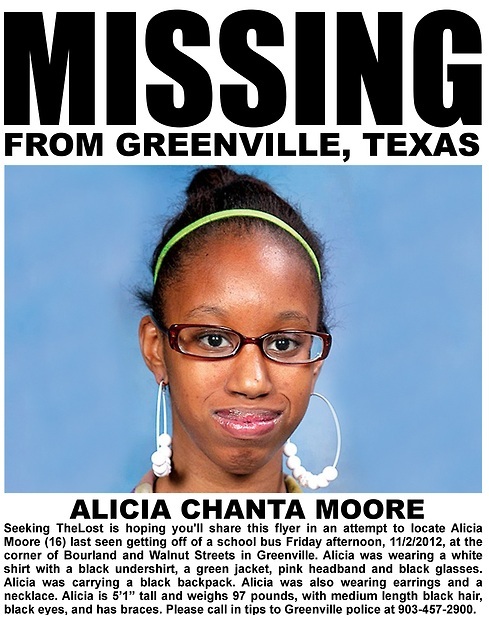 Last November, a pretty little girl named
Alicia Moore
disappeared on her way home from school to her grandmother's house. She was petite and cute and wore glasses, had a nice smile.
Maybe you've seen her picture
. Alicia Moore was 16 years old when she died.
Alicia Moore Murder: Terry Ramshire Takes Plea on Sexual Assault Charges, Great Uncle Michael Charged With Capital Murder
A few weeks ago,
Terry Ramshire was sentenced to 20 years imprisonment after he pled guilty to aggravated sexual assault of a child in connection with Alicia's death.
This was a plea bargain deal with the local prosecutors, based upon
two Grand Jury indictments that stated Terry Dwayne Ramshire had sexually assaulted a "Jane Doe" victim under the age of 17 years on multiple occasions, as well as (indictment no. 2) indecency with a child by sexual conduct, between July 2009 and December 2010
.
Maybe you remember this story when it happened last fall.
Alicia Moore was last see alive as she got off her Van Zandt County school bus near her home in Greenville; her body was discovered 4 days later. They had video of her leaving the bus, no big clues there.
Four days later, Alicia's nude body was found around 35 miles away from the school bus stop, stuffed in the back of a trunk dumped on the side of rural county road in Hunt County.
Skip from November 2012 to May 2013, and there's big news in the case.
The Van Zandt County Sheriff's Office
arrested Alicia's great-uncle, Michael Vincent Moore, of Grand Prairie, for her killing.
Investigators reported that DNA evidence linked Uncle Michael to his niece's murder. Uncle Michael has been formally charged with capital murder (which carries the death sentence if convicted). No trial date yet; no plea deal.
Now, 3 CPS Workers Arrested for Felony Evidence Tampering and Felony Oppression in Alicia Moore Case
This week,
the Hunt County Grand Jury issued arrest warrants for Laura Marsh Ard
, then program director for the Rockwall, Texas,
branch office of the Texas Department of Family and Protective Services
(she retired in March 2013)
along with Natalie Ausbie-Reynolds
, who worked out of
the CPS office in Hunt County
,
and Rebekah Ross
,
another CPS Investigator
. (Both Ausbie-Reynolds and Ross quit their CPS jobs in the past few months.)
According to media reports:
Ard was arrested on one felony count of tampering with evidence;
Ausbie-Reynolds was arrested on one felony count of tampering with evidence and three felony counts of official oppression; and
Ross was arrested on one felony count of tampering with evidence and four felony counts of official oppression.
Every single one of these charges brings with it, under Texas law, a maximum sentence of 2-20 years incarceration in a Texas prison and a possible maximum monetary fine of $10,000.
These are CPS workers who have been arrested and charged for FELONIES in connection with a CPS case. This is a big deal.
Right now, we don't know what exactly is going on here —
the Hunt County District Attorney isn't giving details on what these three CPS people allegedly have done to be arrested on so many felonies, but it's understood that it's dealing with the "Alicia Moore case"
as opposed to the "Alicia Moore murder."
This case made the national news.
Jane Velez Mitchell interviewed the family
shortly after the homicide was discovered, and
the Huffington Post provided good, detailed coverage of the investigation
as it was progressing (including online uploads of the school bus video showing Alicia leaving the school bus and the police reports that were filed at the time).
Of importance here, early in the case, was the failure of any arrests being made between November 2012 and May 2013. The FBI, the Texas Rangers, and local authorities
frustrated the family
with a lack of information and results, and there was the additional problem that Alicia Moore was first considered a runaway and not someone in danger - and
therefore never placed on an Amber Alert.
Would Alicia Chanta Moore be alive today if there had been an Amber Alert? Good question.
Maybe a better question soon to be asked by a lot of folk is would Alicia Chanta Moore be alive today if CPS had taken action regarding information in CPS investigatory files?
There's a mighty big reason that three CPS employees are now facing felony charges - this doesn't happen all that often here in Texas.